About Us :-: Geostrategic location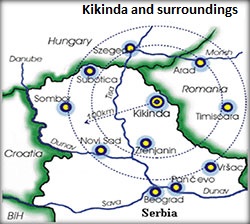 Kikinda is the center of the North Banat District, which consists of Kikinda, Čoka, Novi Kneževac (North Banat), Ada, Senta and Kanjiža (Tisa Area), with a total of 147.770 inhabitants.
Apart from Kikinda as a community center, this area includes the villages: Banatska Topola, Banatsko Veliko Selo, Bašaid, Idjos, Mokrin, Nakovo, Novi Kozarci, Rusko Selo and Sajan.
Altitude of center of the city (msl) is 82 m.
The longitude 20° 30' east of Greenwich.
The latitude 45° 31' north of the Equator.
The territory of the Kikinda is on the east touches the border of Romania, on the southeast it borders with the Municipality of Srpska Crnja, on south with the City of Zrenjanin, on the southwest it borders with municipality of Novi Bečej, on the west with the river Tisza and the north with the Municipality of Čoka.
The territory of the city is located in the northern part of the Banat region, 10 km from the international road border crossing Nakovo - Lunga (Romania), and at 35 km from the international border crossing Srpska Crnja - Jimbolia (Romania). Also, the largest North Banat town is 65 km from the inter-state border crossing Đala – Tiszasziget (Hungarian boreder).
Road and railway network is well connected with other parts of Vojvodina and Serbia. It is only 100 km from Novi Sad and 130 km from Belgrade. Railway route Szeged – Kikinda - Timisoara is a priority project in the strategic plan Euro region Danube - Karas - Mures - Tisza and on it is working intensively. Otherwise, Kikinda is an international railway border crossing with Romania.

Nearest airports:
Belgrade, Airport "Nikola Tesla" - 130 km;
Timisoara, Romania, Airport "Traian Vuia" – 71 km;
Budapest, Hungary, Airport "Ferenc Liszt" – 253 km;
| City | Distance from Kikinda |
| --- | --- |
| Novi Sad | 100 km |
| Belgrade | 130 km |
| Timisoara, Romania | 71 km |
| Szeged, Hungary | 90 km |
| Budapest, Hungary | 253 km |